What Is the Federal Anti-Kickback Statute?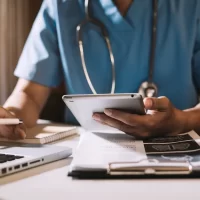 The anti-kickback statute (AKS) is one of the federal government's most powerful enforcement mechanisms for federal healthcare fraud and abuse laws. Agencies including the Department of Justice (DOJ), the Department of Health & Human Services Office of Inspector General (HHS-OIG), and the Centers for Medicare & Medicaid Services (CMS) can use the AKS to pursue claims against healthcare organizations and their individual members for violation of the AKS, as well as the False Claims Act (FCA) and the Physician Self-Referral Law (Stark Laws).
Read on to learn about the federal anti-kickback statute. Call an experienced California healthcare criminal defense and anti-kickback defense lawyer for help avoiding AKS liability and fielding governmental investigations into alleged misconduct.
Conduct Prohibited by the Federal Anti-Kickback Statute
In most industries, it's perfectly acceptable to pay someone as a reward for referring clients to your office or using your product. In the federal healthcare programs, paying someone for referrals is a criminal act.
The anti-kickback statute is a federal criminal law that prohibits certain kinds of conduct in the healthcare industry. Specifically, the law prohibits the knowing and willful acceptance or payment of "remuneration" in exchange for patient referrals or the generation of business involving any item or service reimbursable by the Federal healthcare programs.
The business involved may be referral of patients, prescription of certain drugs or treatments, provision of certain healthcare services, etc. Even an offer for an exchange of payment for referrals can constitute an AKS violation. To trigger federal oversight and the purview of the AKS, the patients involved must be enrolled in a federal healthcare program, i.e., Medicare or Medicaid.
"Remuneration" is defined very widely and can include:
Direct payments
Waiver of copayments
Financial incentives
Free or discounted rent
Gifts such as expensive hotel stays, meals, or trips
Excessive compensation for medical directorships or consultancies
Anything else of value
The AKS is often discussed in tandem with the Stark Laws, which prohibit physicians from self-referral. Self-referral primarily concerns a physician referring a Medicare or Medicaid patient to a covered healthcare provider with which the physician (or an immediate family member of the physician) has a financial relationship.
Penalties for AKS Violations
The anti-kickback statute carries both civil and criminal penalties. AKS violations are also considered violations of the federal False Claims Act, which increases the potential civil liability for AKS defendants.
Healthcare providers who violate the AKS can be subject to administrative and civil sanctions such as heavy fines (up to $50,000 per kickback plus triple the remuneration), penalties to their licensure, and exclusion from federal healthcare payer programs. They can also face criminal penalties, including up to five years in prison for each violation.
For help defending against anti-kickback or Stark Law allegations, responding to agency investigations, dealing with billing fraud or regulatory compliance issues, or for advice and representation concerning internal investigations, auditing, employment matters, governance issues, business disputes, licensing, or any other California healthcare law matter, contact the Law Offices of Art Kalantar at 310-773-0001. The Law Offices of Art Kalantar, located in Los Angeles, provides legal services throughout California.