Protect Your Healthcare Practice Against Lawsuit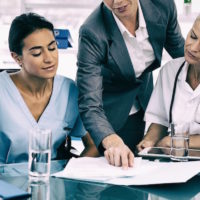 As a medical professional, your first priority is likely to provide the best quality of care for your patients. Healthcare practices are, unfortunately, also businesses, and with business comes concerns regarding compliance with laws and regulations, dealings with contractors and other entities, and employee relations. If you are not constantly vigilant on the business side of things, your healthcare practice could be exposed to liability from a variety of angles. A knowledgeable healthcare law attorney can help ensure that your healthcare entity is engaging in best business practices in order to avoid the headaches and financial fallout attendant to lawsuits.
Keep your compliance procedures up to date
Complying with the variety of state and federal laws and regulations that apply to healthcare practices can feel like a huge burden, but it is extremely important. A detail-oriented healthcare regulatory compliance attorney can help you set up and maintain appropriate compliance policies with regard to information privacy and security, business governance, and also avoiding healthcare fraud and abuse, among other areas, so that you can focus on providing top-notch service to your patients. Failing to comply with regulations such as HIPAA can expose your practice not only to government audits and censure, but to civil liability from patients as well.
Conduct regular financial and billing audits
It is important to regularly vet your finances and billing practices in order to ensure that you are not overbilling clients, private insurance companies, or governmental programs like Medicare. Overbilling or double-billing can happen inadvertently or as the result of an unscrupulous employee, and the security of your practice will be in jeopardy either way. Make sure your billing codes are clearly delineated and applied appropriately to avoid patients or governmental entities going after your practice for fraud.
Train your staff and maintain strict policies
Keep your staff as well as any physicians, nurses, and others who operate out of your practice up to date on applicable laws and regulations in order to ensure that they do not run afoul of the law on your watch. Maintain strict policies as to how physicians, nurses, and others can interact with contractors, pharmaceutical companies, and patients. Do not let doctors in your hospital accept high-value gifts or other rewards from pharma companies, hospital groups, or others, which could expose your practice to liability under the anti-kickback statutes as well as civil liability from any patients wrongfully prescribed.
Practical and Effective Advice and Representation in California Healthcare Law
If you're a California healthcare provider who needs assistance with matters pertaining to your practice, your licensing, or any other legal issue, get seasoned and effective help by contacting a dedicated Los Angeles healthcare lawyer at the Law Offices of Art Kalantar for a free consultation in Los Angeles or statewide at 310-773-0001.