How Physicians Violate the Anti-Kickback Statute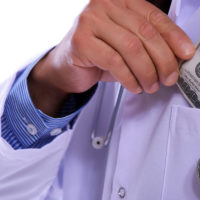 The anti-kickback statute is a federal law aimed at preventing doctors from receiving a financial benefit for patient referrals if the federal government may be charged for all or part of the cost of these services. Physicians and others in the medical field could face fines, community service, and even sentences to federal prison for violating these laws either by offering or accepting kickbacks. To learn whether you more about whether you're violating the anti-kickback statute, read on to learn more examples of kickbacks in healthcare.
If you're a physician or work in the health care or pharmaceutical industry, you may believe that you could never face charges of bribery, but it's important to understand what is barred under the law. Violations of the anti-kickback statute might not be as straightforward as you think. Read on to learn several examples of cases where courts have found violations of the anti-kickback statute, and contact a knowledgeable Los Angeles health care law attorney if you have additional questions.
Certifying or re-certifying that a patient needs care
The anti-kickback statute 42 U.S.C. § 1320a-7b(b) states that doctors or representatives of a facility or manufacturer could face criminal penalties for making or inviting "referrals" in exchange for something of value. The term "referral" isn't defined in the law but has been defined very broadly by courts. In one important case or example, a doctor was found guilty of violating the anti-kickback law for certifying or re-certifying a patient's need for in-home care to Medicare after the patients had independently chosen a care provider who had earlier paid cash kickbacks to the doctor. In other words, the doctor didn't tell patients to use this care provider; he only filled out a Medicare certification or re-certification form to a provider after they had provided a cash payment to the doctor.
Payments above fair market value or for minimal services
In some cases, a drug manufacturer or laboratory may owe a fee to a doctor for specimen processing, event speaker fees, or participation in research projects. However, if courts conclude that the fee paid by the laboratory or manufacturer is found to be in excess of the standard market rate for those services, or was paid when little or no work was performed in exchange for the fee, then the fee may be considered an illegal kickback and inducement to later refer business to that company.
Free travel, meals, or event tickets provided to physicians
It may seem innocent to accept a free meal from a lab or drug rep, or for your costs to travel to a conference or meeting to be covered, but these items have value, and they are thus considered impermissible kickbacks when offered to a doctor with the power to issue referrals.
If you're facing charges of accepting or offering illegal kickbacks in healthcare, get help defending your reputation and license by contacting a seasoned and experienced Los Angeles lawyer at the Law Offices of Art Kalantar for a free consultation at 310-773-0001.