Hospital Hiring and Firing – How to Not Get Sued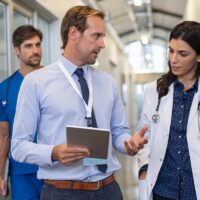 On top of local, state, and federal regulations controlling every aspect of a medical practice, hospitals must also remain vigilant with regard to employment law concerns. Like any other employer, hospitals that terminate employees must take care to avoid any whistleblower, retaliation, or discrimination claims, in addition to adhering to regulations that apply specifically to the medical practice. Below, we address some of the employment law concerns that arise for hospitals when hiring and firing employees. Call a knowledgeable California healthcare business law attorney for help managing your medical practice or dealing with any matter of healthcare or business law.
Types of Wrongful Termination
The quickest way to get sued after firing an employee is to discharge an employee for an illegal or unauthorized reason. Employees cannot be terminated either for membership in a protected class or for exercising their legal rights. Wrongful termination suits may arise if an employee has reason to claim they were fired due to:
Membership in a protected class based on their race, sex, ethnicity, religion, political views, gender identity, sexual orientation, etc.
Taking protected medical leave
Raising complaints internally or externally about unlawful or wrongful conduct committed by the hospital
Filing claims for workers' compensation
Reporting OSHA violations
Their wages being garnished to pay for debts
Testifying against the company in a lawsuit or other legal proceeding
Reporting healthcare or Medicare fraud
Reporting HIPAA violations
In a nutshell, hospitals, like other employers, cannot fire an employee for any reason that violates local, state, or federal law. Employers cannot fire an employee for refusing to follow illegal work instructions as well, such as if the hospital tells a staff member to cover up a medical mistake. Employers can generally fire any "at-will" employee for any other reason or no reason at all, so long as the reason does not run afoul of the law or any existing employment contract or collective bargaining agreement.
Implement Best Practices Now, Avoid Liability Later
The old adage "an ounce of prevention is worth a pound of cure" is very apt when it comes to avoiding employment liability. A few practices that can preempt eventual employment-related lawsuits include:
Draft clear, detailed employment contracts addressing hours, wages, grounds for termination, non-compete provisions, paid leave, and processes for resolving disputes (such as binding arbitration)
Ensure any restrictive covenants or non-compete agreements comply with state law
Maintain robust internal compliance and human resources departments, including venues for employees to report concerns about hospital practices without fear of retaliation
Implement and maintain training, policies and procedures concerning fraud prevention, billing, sexual harassment, data protection, and anti-discrimination
These are just a few best practices to avoid liability on a variety of issues in addition to providing hospitals a solid defense against disgruntled former employees trying to manufacture a legal conflict. An experienced healthcare law attorney can help you implement robust policies and practices designed to protect your healthcare business from unnecessary liability.
Get Help With a California Healthcare Business Law Matter
For assistance with matters pertaining to healthcare employment disputes, healthcare mergers and acquisitions, regulatory compliance, business disputes, fraud allegations, licensing or any other healthcare legal issue, contact the Law Offices of Art Kalantar in Los Angeles or California statewide at 310-773-0001.