The Basics of Employment Contracts in Healthcare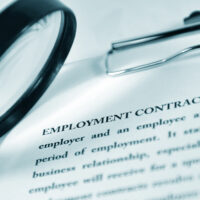 Employment contracts are a complicated and heady affair in any industry. In the land of healthcare, there are numerous additional headaches that factor in to any employment arrangement, not the least of which is California law concerning physician employment. California is one of a few states that outright prohibits hospitals from directly employing doctors. There are a few very limited exceptions involving nonprofit teaching hospitals or certain remote "critical access" hospitals, but for most healthcare practices, doctors cannot be direct employees. For all other staff at a healthcare practice, employment contracts and arrangements must account for both California employment law as well as state and federal healthcare regulations. Below are some guidelines from the healthcare employment contracts attorney at the Law Offices of Art Kalantar for your healthcare entity to follow in entering healthcare employment contracts.
Physician contracts
As mentioned above, hospitals cannot directly employ physicians in California. Instead, physicians will typically have an independent contractor arrangement. Physician contracts, whether independent contractor arrangements or direct employment contracts, should be detailed and thorough, including provisions that account for, for example:
Financial compensation, whether variable or fixed
Paid leave
Equity in the practice, for physician-owned practices
Non-compete provisions, affecting the physician's ability to practice medicine should they change employers
Benefits, such as health insurance, licensing fees, and expenses for continuing education
Procedures for resolving any disputes that may arise
Hours, including both work hours and on-call schedules
Professional responsibility matters, such as restrictions on solicitation
Termination provisions, whether for cause or not for cause
Liability insurance
Compliance requirements, including Stark referral laws, anti-kickback statutes, and fee-splitting or self-referral restrictions
Understanding termination
One of the most important facets of any employment contract is the circumstances that may give rise to termination. A contract should specify when an employer can terminate the contract for cause and when the contract can be terminated without cause, such as at the end of certain term periods. The contract should specify when the employees or physician can terminate the contract as well; typically, they should be permitted to do so upon timely notice. If contracts have termination for cause, the types of cause should be included as well as specifics regarding written notice and ability to cure before termination.
Understanding restrictive covenants
Many physician contracts will aim to limit the ability of a physician to compete with the employer at the end of the contract. California law and courts generally disfavor broad restrictive covenants and will throw them out if they appear unduly restrictive. Generally, a restriction should be short in duration (one or two years) and limited by geography (in a city, maybe a few miles at most, or possibly wider in a rural area) to be enforceable.
Southern California Healthcare Business Lawyers
For help with healthcare employment matters in Los Angeles and California statewide, call the Law Offices of Art Kalantar in Beverly Hills at 310-773-0001 for a free consultation.