How to Form a Professional Corporation for Medical Entities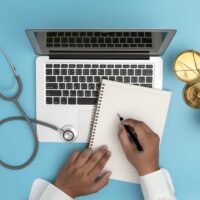 California has special laws and regulations that concern the formation of medical corporations. Forming a medical company requires proper knowledge of the interaction between health care law and corporate law, and there are many pitfalls for the unwary. Read on to learn about forming a professional corporation for a healthcare entity, and speak with an experienced and professional California healthcare business law attorney if you are looking to form a professional corporation for your medical practice.
Available Corporate Structures
In California, medical practices may not form traditional business entities such as LLCs or regular corporations. Instead, medical practices are limited to Professional Corporations (PCs), the owners of which must have a specific license.
Limitations on Ownership
Physicians may form professional medical corporations. California law restricts how professional medical corporations may be owned. All medical corporations must have one or more physician owners, and licensed doctors must hold the majority ownership. Non-physicians can own a minority share of the company. California law limits the number of non-physicians who can own a stake in the company. Eligible non-physician minority owners include other non-physician licensed medical practitioners such as social workers, chiropractors, physical therapists, optometrists, registered nurses, psychologists, and pharmacists, among others. Non-physician medical practitioners may also establish PCs tailored to their specific practices, with similar limitations on ownership.
In any case, California places strict limitations on the "corporate practice of medicine" in order to limit the influence of business decisions. Violations of this prohibition may occur when non-physicians are allowed to invest in the practice (such as by purchasing stock), or when the entity undertakes certain types of contracts or transactions with non-physicians. Medical entities should consult with a knowledgeable healthcare lawyer before engaging in ownership-related transactions with non-physicians or other corporate entities.
Limitations for Officers and Directors
There are similar limitations on who can be an officer or director of a professional medical corporation. Only individuals who qualify to be shareholders of a professional medical corporation may also serve as officers or directors of the corporation.
Formation of a Professional Corporation
Professional medical corporations must be formed in accordance with the Moscone-Knox Professional Corporation Act. Formation requires satisfying various formalities, including:
● Filing articles of incorporation in compliance with California law and the regulations of the board that licenses the particular profession
● Following proper naming conventions, including following proper procedures for obtaining a fictitious name permit
● Establishing corporate bylaws in compliance with state and licensing board regulations
● Establishing a shareholder agreement, where applicable
● Complying with corporate taxation rules, including the acquisition of a taxpayer identification number
Each of these steps requires complying with a variety of state law and professional board rules. An experienced healthcare and business law attorney can help your medical entity establish a corporation in compliance with all applicable laws and regulations.
Build your medical practice effectively, efficiently, and legally
For assistance with matters pertaining to healthcare business formation, healthcare legal compliance, business disputes, or any other healthcare law issue, contact the Law Offices of Art Kalantar for a free initial consultation in Los Angeles or statewide at 310-773-0001.