Cardiopulmonary Exercise Testing Compliance Issues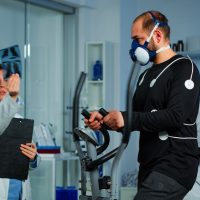 Cardiopulmonary exercise testing (CPET) is a powerful tool for diagnosing critical health issues, but the cost of a CPET evaluation can easily run to thousands of dollars. Medicare reimbursement is available, but only if the patient's medical record is well-documented to substantiate the medical necessity of the service. Failing to comply with applicable rules and regulations can subject you and your medical practice to severe penalties, including Medicare exclusion, criminal prosecution, or the loss of your medical license.
See below for a discussion of issues surrounding CPET compliance. If you are a healthcare provider in Los Angeles or throughout California in need of Medicare or healthcare criminal defense or defense against healthcare fraud allegations, contact the Law Offices of Art Kalantar in Beverly Hills for a free consultation with a skilled and experienced California healthcare law attorney.
Understanding CPET and its Applications
Cardiopulmonary Exercise Testing (CPET) is a non-invasive procedure that evaluates the cardiorespiratory system's capacity and efficiency. By monitoring gas exchange at the lungs during physical exertion, typically on a treadmill or stationary bike, CPET provides crucial insights into the functioning of the heart, lungs, and muscles.
CPET is indicated for evaluating unexplained dyspnea, exercise tolerance, functional capacity, and fitness for surgery, among other clinical uses. However, it is contraindicated in patients with unstable angina, severe pulmonary hypertension, and certain arrhythmias, where the risks outweigh the benefits.
CPET Compliance: The Doctor's Role
To adhere to CPET compliance guidelines, physicians must first evaluate whether CPET is necessary and appropriate for a patient's condition. They should perform a thorough pre-test evaluation, including a patient's history, physical examination, and review of medical records. During the test, physicians should closely monitor the patient's vital signs and symptoms and be prepared to handle any potential emergencies.
Physicians must also ensure that the test results are accurately recorded, interpreted, and documented in the patient's medical records. Most importantly, they should communicate the results to the patient, highlighting any abnormalities, potential health risks, and recommended treatment strategies.
Medicare Rules for CPET Testing
Adhering to Medicare rules for CPET testing is a critical area for compliance. Medicare covers CPET under specific conditions, such as evaluating patients for heart or lung transplantation or those suspected of heart disease that cannot be diagnosed through resting tests.
To comply with Medicare's rules, doctors must ensure that the CPET is medically necessary, properly ordered, and appropriately documented. The medical record must contain the test's purpose, findings, and effects on the treatment plan. Billing codes must accurately represent the services provided, and claims must be supported by appropriate documentation.
According to Medicare's billing and coding guide for CPET, documentation in the medical record should include the following:
A clinical diagnosis,
The specific reason for the study,
Reason for performing a stress echocardiogram as opposed to only an electrical stress test,
The reason for using any pharmacological stress, and
The reason for a stress echocardiogram if a stress nuclear test is also performed for the same patient for the same clinical condition.
CMS guidelines further tell the doctor to document the referral order in the medical record, document the interpretation and report of all segments of the service, document the necessity for the test frequency, and document that any applicable physician supervision requirement is met.
CPET Testing and Healthcare Fraud
Non-compliance with CPET procedures or Medicare rules can lead to allegations of healthcare fraud. Overutilization of CPET, performing unnecessary tests, or fraudulent billing practices such as upcoding or unbundling services can raise red flags. If convicted, healthcare providers could face severe penalties, including fines, restitution, and potential imprisonment.
Help With CPET Compliance Issues and Healthcare Defense in California
The Law Offices of Art Kalantar practices extensively in the areas of healthcare criminal defense, Medicare criminal defense, and healthcare fraud defense. If you are facing healthcare fraud charges related to CPET or any other aspect of your practice, our team is ready to assist you. Call 310-773-0001 or contact us online to request a free consultation.